amateur category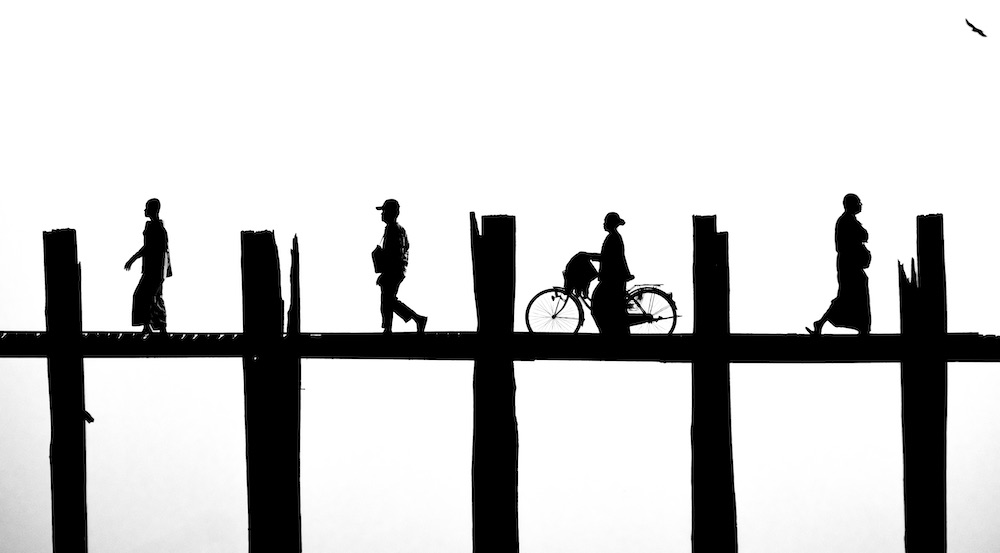 People on the U Bein Bridge (Single)
DESCRIPTION
The photo was taken during a tourist trip under the U Bein bridge, the longest wooden bridge in the world near Mandalay, (Myanmar) and shows 4 people, very different from each other crossing it, at a particular moment in which the 4 characters are geometrically aligned in the middle of the bridge posts. I used B / W to accentuate the silhouettes
AUTHOR
Angelo Bonarelli is an amateur photographer who lives in Civitavecchia (Rome), for about ten years he has taken back the camera that I had abandoned as a boy after a few years of analog experiences.
Curious and tireless observer, he has experimented with various genres that have enriched and photographically forged him.
The search still lasts. The experience is never too much, the desire togood pictures is always irresistible.
During these years he has exhibited in numerous solo and group exhibitions, in Italy and abroad (collective exhibition "Friendship" Indore, India)
He was the winner of national photo competitions,he has participated in important events (Lucca 2017, Bibbiena 2019), collaborates with various photographic associations.
He is currently working on architectural photography, but nothing prevents the lens from completely changing direction in a few days to give it, as always, new emotions.
←
back to gallery