professional category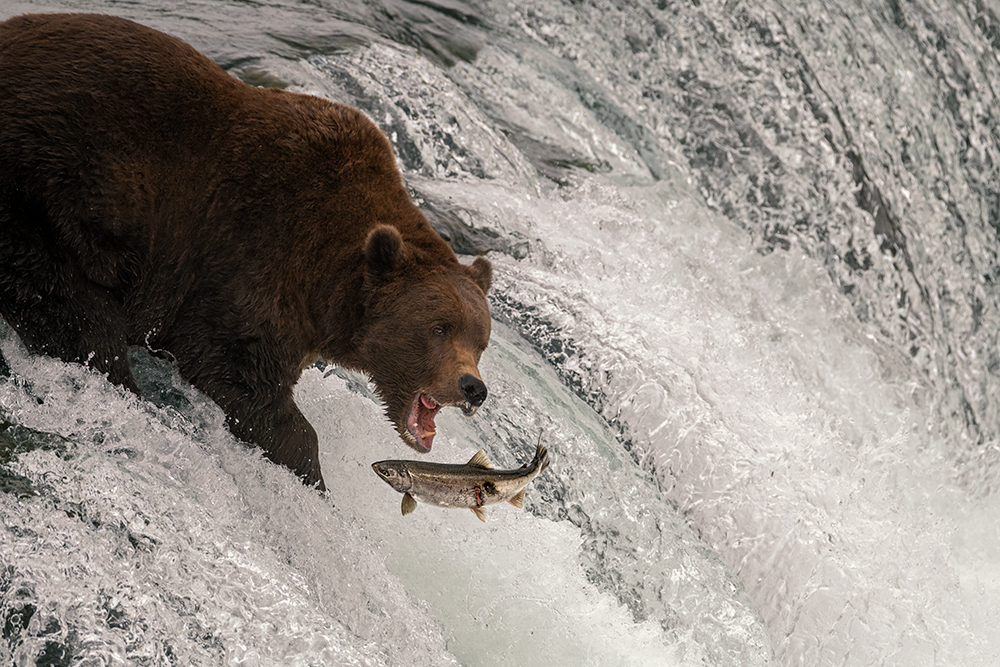 Gotcha (Single)
DESCRIPTION
One of the highlights of my first trip to Katmai National Park this year was photographing the large male coastal brown bears trying to catch salmon at the top of Brooks Falls. The salmon would swim upstream and try to jump up the falls, sometimes into the mouths of a waiting bear. I sat for hours trying to capture this perfect moment when the salmon was about to enter the bear's mouth and the bear was facing in my direction.
AUTHOR
I am a fine art photographer focusing on wildlife living in Jackson Hole, Wyoming. I have traveled all over the world photographing nature and I try to promote to promote the conservation of wildlife and open land through my work.
I had my first solo exhibition at the end of 2019 at the Martha Spak Gallery in Washington, DC. The exhibition was extremely successful and I sold 65 photos on metal.
I just started entering competitions and have been recognized by many.One of my images is printed in the 2021 Expressions, the Annual Journal of NANPA, which highlights the top 250 images from the NANPA Showcase Competition.I was one of 14 semifinalists in the 2020 Birdwatching Photography Awards contest.I was a semifinalist in Nature's Best Photography 2020 International Awards.I just won First Prize in the Teton Photography Club winter competition. I won First prize for the People's Choice award in Photography Academy's 2020 competition. I just won the Winter Award for one of my images on ViewBug.I was just featured on Instagram as an Editor's Choice in NatGeoYourShot.In January 2021, a bison herd video I shared on social media was featured on CBS Morning News, Yahoo News, and MSN.
←
back to gallery