professional category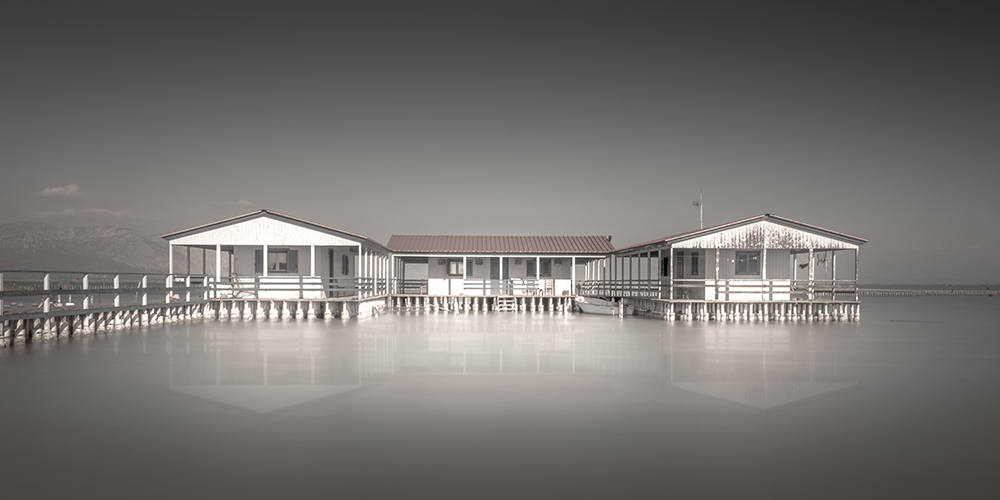 Mesolongi Lagoon (Single)
DESCRIPTION
The Mesolongi-Aitoliko lagoon complex is located in the north part of the Gulf of Patras in the central west coast of Greece. With its shallow area of 150 sq.km. extended between Acheloos and Evinos rivers, it is one of the most important wetlands in the Mediterranean. The ecosystem comprises of six lagoons that are part of the Natura 2000 network protected by the Ramsar Convention. The open and closed type lagoons communicate with the sea along channels and receives fresh water from the drainage pump system of the region, creating a unique aquaculture environment. Fishing is mainly done with traditional methods by local fishermen in fish-pools called 'divaria'. The name of the settlement 'Tourlida' was given after the marine bird species that were found in the area, the tourlides (eurasian curlew). This islet connects to Mesolongi by a causeway stretching 5 km. A landmark of Tourlida is the houses on piles. They are stilt houses built by fishermen, named 'pelades' in Greek. The image was taken by architect and photographer Pygmalion Karatzas in April 2017 and fuses the boundaries between topographic/representational and expressionistic/pictorial iconography in its exploration of the integral perspective.
AUTHOR
Pygmalion Karatzas was born in Greece in 1973. He studied architecture in Budapest, and urban design in Edinburgh. Working as a freelance architect since 1999, he has designed more than 20 projects. Since 2012 he has been involved systematically with artistic and commercial architectural photography.
Distinctions include international competitions Architizer, Sony WPO, IPA, Spider Black & White Awards, PX3. His images are being featured regularly in web and print publications. Exhibitions include 'Eye See the Story', 'Points of View', 'Misty Landscapes', 'The Margin - Panhellenic Architecture Exhibition', 'KTIRIO Magazine - 30 Years of Greek Architecture'. 
Recent projects include the Expo Milano 2015 pavilions, Doha's Contemporary Architecture, and buildings by Barlas Architects, Valia Foufa & Panagiotis Papassotiriou, Anmahian Winton Architects, R.C. Tech, among others. In 2015 he was awarded the Fulbright Artist Scholarship sponsored by the University of Tennessee in Knoxville, College of Architecture and Design. 
He collaborates with the Danish Architecture Center as photo editor, a contributing photographer on Arcaid Images London and a member of the Association of European Journalists. His on-going research is towards an integral approach to architecture, sustainability and art. Based in Aigion, travels in Greece and abroad for his personal projects and assignments.
←
back to gallery