professional category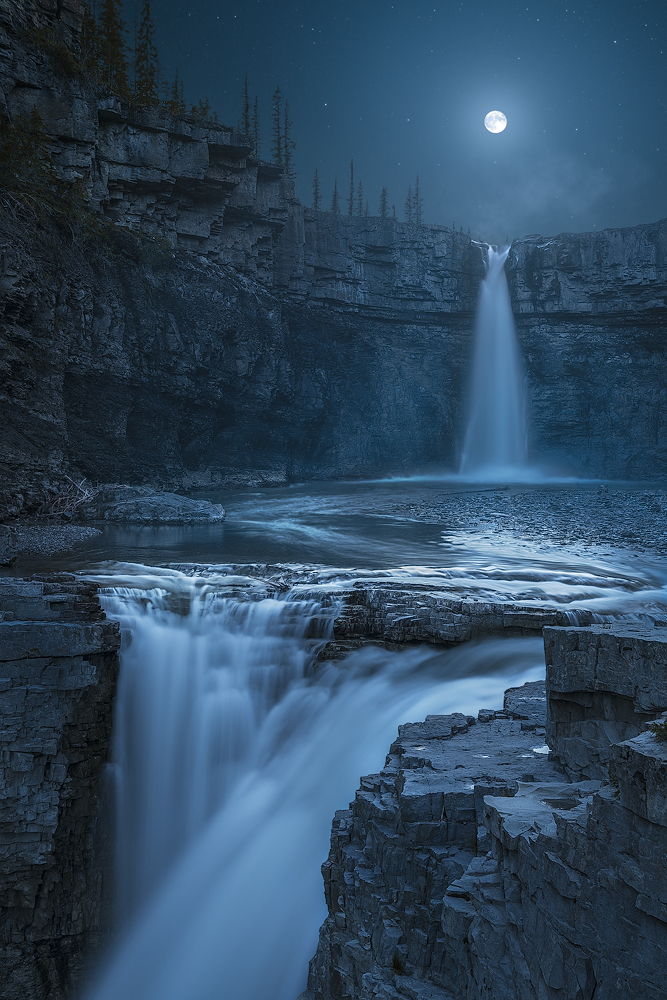 'Crescent Falls' (Single)
DESCRIPTION
Crescent Falls is a true gem of the Canadian Rockies, somewhat lesser known as it lies outside of the Banff and Jasper National Parks. I planned in advance to visit the double falls on an evening when the full moon would be setting above, completing the image in my mind's eye that I had envisioned. I set my tripod in position to photograph the foreground elements while there was still enough light for noise free image files and shutter speeds to achieve some texture in the water flow. As the sky darkened, I waited in position for what seemed like hours, somewhat uncomfortably as I was alone in the darkness, the water roaring loudly over the rock faces and a sheer vertical drop just steps away. It was beyond exciting to see the large full moon move across the sky and into position above the falls as I had hoped, lighting up the water with beautiful reflections as I recorded my final shots to complete the photograph. The final image incorporates time and focal length blends to overcome limitations of camera equipment, creating a photograph that is true to what I saw with my own eyes. An unforgettable experience.
AUTHOR
My name is Dean McLeod and I am a semi-professional landscape and nature photographer from Canada, selling large format fine art landscape and nature photography prints to collectors worldwide. Throughout my life, the deep sense of joy and satisfaction I feel from creating art has always been part of who I am. My self-taught exploration with the camera has brought me back full circle to the joys of my childhood, magically combining everything that I love into a single craft. It is very liberating to capture a fleeting moment in time that can be preserved forever as a beautiful fine art photograph. My goal is to create original, compelling photographic art that conveys a mood or stirs emotion in the viewer. The power and beauty of nature is truly humbling; and more than ever before, it needs to be respected and preserved for future generations to enjoy as we have been so privileged to do so.

I am honoured to have been recognized in print and online in publications such as Outdoor Photographer magazine and a Tourism Saskatchewan calendar. In January 2020 I will have an image published in Scandinavia's biggest photography magazine, Digital Foto.
←
back to gallery