professional category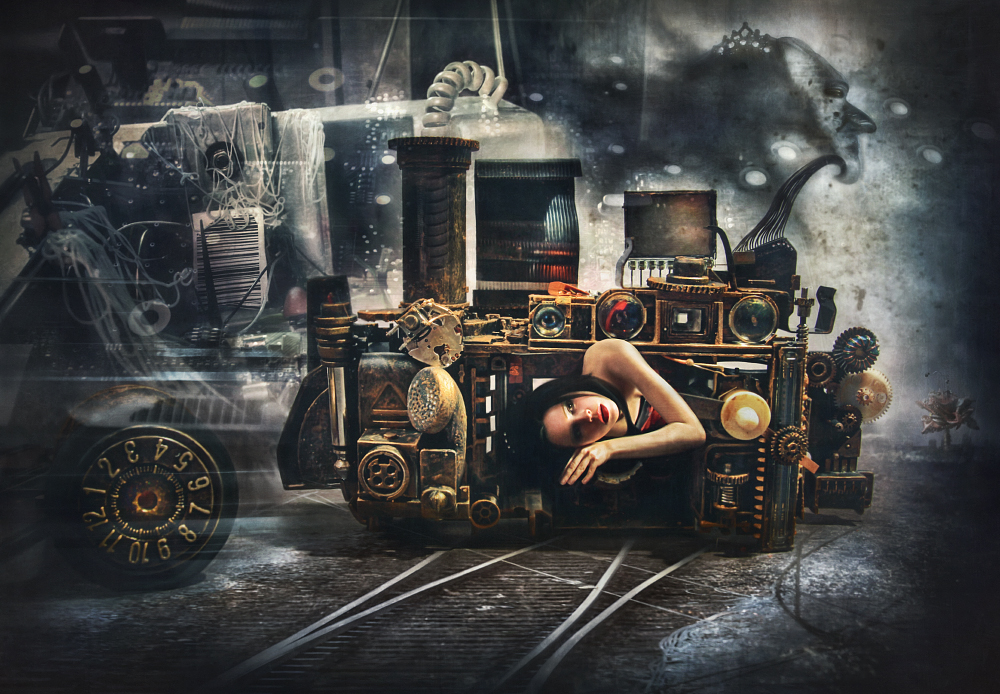 Sweet Dreams Empire: After Chaos (Single)
DESCRIPTION
"Sweet Dreams Empire" illustrates the ideas of fear, assumptive absence of developement or further evolution, as well as of beauty by common standards. It tells us about the onset of the fairy-tale Technological Universe, starting with the clockwork drive gears frozen and then bursting in space, constructing Time and Chaos dimensions, half-separately from each other. The Chaos part symbolizes the absence of any visible functionality or integrity of the scene - at first sight. But, just like in real theories, is has its own specific order. Everything is put as some odd *decorations*, only *supposed* to be functional, through some dreamy and generally valid descriptions. I also make all the constructions myself of various/numerous parts of decomposed devices and other materials, my aim is to give something old and having no more practical use in the world where the fashion for the newest technological achievements gives practically no space or possible consideration for such things, a new life and intended purpose, along with using this concept as part of the whole ideology that I was going to reveal.
AUTHOR
Ekaterina Zagustina (aka KatjaFaith) is a Russian illustrator and photographer. The base of most of her works is a photograph, digitally manipulated and/or mixed with digital painting. Among her publications are several book covers for Apex Book Company, Viaje a Bizancio Ediciones, cover art for THE SORROW KING by Andersen Prunty, EXIT by Shane Filer, as well as some other book illustrations and CD-covers (US, Canada, Spain, Russia).
Her works have been featured in PhotArt, Fashion Collection, BigMag, Sugarkiss Magazine, Sketchozine, Apex Magazine, #photography, Photo+, etc.
Published in artbooks "The Best of the Best Photographers 2015. One Eyeland Book Vol. 5", "Inspiration International Artbook 2016".
She has been working more in the field of photography with her art for some time, creating some surreal/conceptual/sci-fi/social concepts and ideas for the new series of works as fully self-produced personal projects.
Award holder in: Trierenberg Super Circuit and Special Circuit (2 Gold Medals, 2 Gold Medals of Excellence), International Photography Awards (2nd category prize, HMs), Moscow International Photography Awards (3rd place, HMs), Prix de la Photographie (PX3) (Bronze Medal in People's Choice, HMs), One Eyeland Photography Awards (Bronze), London International Creative Competition (LICC), Neutral Density Photography Awards and some others.
←
back to gallery